Covid-19 Service Enhancements...
The Pandemic of 2020 is a once a century event that has changed our lives.

In this time of social distancing, WJM Architect is utilizing advanced internet tele-conferencing tools as well as improved computer aided visualizations.

With our custom modified software and broad knowledge of building design, our clients can be comfortable during meetings as design configurations are presented for their project.
This protects the client and enhances the client's understanding of the presented project.

Client suggested changes can be evaluated visually during the computer tele-conference for inclusion in the design and construction drawings.



Interior concept review sketch
Our methods work and keep you safe. This allows our clients to make informed decisions about what is right for their situation.
Feel free to call or e-mail us if you have any questions about our enhanced services and tele-conference design tools.
Changing Design Considerations - learning from Covid-19 ...

Over the last few years open floor plan designs have become very popular. Unfortunately, with the COVID-19 pandemic, we are now told to stay home in order to prevent the spreading of the virus. Spaces for working from home and homeschooling our children is now a necessary feature of our home's design. Open floor plan design, under these circumstances, can create stay at home issues. The ability to separate activity into spaces conducive for home working and home schooling will be an important consideration in post pandemic home layout discussions.

Many families choose to live with multiple generations of the family together in one household. In multi-generational situations, interior hallways can be planned out to allow older generations to move around the home separated from younger generations. This allows for the health of every member of the family to be considered in daily homelife. The floor plans can be arranged with a type of one-way flow that does not require family members to pass close to each other as they move throughout the house.

We need to rethink exactly how we actively enter the home living space. Entering the home can be reimagined with enhanced entry halls and mud rooms. These spaces would contain cabinetry including hand wash sinks. This will allow persons entering a chance to immediately wash hands for maximum health safety. Removing shoes upon entering the home is also a good strategy. Shoe trays with ultraviolet lights above will act as shoe sanitizers. This reduces the chance of unwanted particles from being carried in and beyond the entry door area.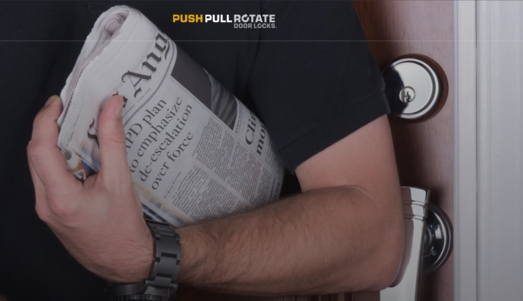 Push / Pull door latch release hardware (Brinks)

Hand operated hardware may no longer be practical. Touchless entry hardware on doors and the use of no-hand touch operated hardware may be a better alternative. Cell phone apps are available that allow for the locking and unlocking of secure exterior doors. Foot or elbow triggered door latches could be operated with a push bar or a foot pedal. These touchless entry systems do not require hand operation and thus will be more sanitary.

We may need to reconsider storage spaces. Large pantry rooms with separate refrigerators and freezers will become very useful. This type of room will reduce trips out to grocery stores for food essentials by increasing storage and lengthening food preservation times. The situation of family members crowding around the kitchen fridge may also be reduced since drinks and snacks can be stored in an area separated from the kitchen.

Air, light and ventilation considerations can affect your mental and physical well-being. Windows that allow control of fresh air directly into rooms is beneficial. The natural light from outside coming into the home has affects on sleep patterns and mental well-being. Home ventilation systems with high MERV filtration devices remove allergens, toxins and other particles from the air. Interior air distribution with ceiling air supply diffusers and floor air return grills encourage air and particle movement downward instead of across rooms.

Social distancing has separated us from our friends and neighbors. While video computer teleconferencing can help, it is not the only solution that should be considered. Staring at screens to see our friends has implications for our health as well. Social distancing enhancements can be accomplished through front porch design of homes that allow friends to visit yet stay an appropriate distance away. This allows for a real, in place connection, with friends and visiting relatives.

Front porch design will also change to better accommodate package deliveries. Secure package boxes with ultraviolet light sanitizers may be coming in the very near future.

Staying inside buildings for long periods of time also has implications. Rear porch, patio and deck design can allow family members to be exposed to sunlight, get fresh air and experience the natural world for a portion of the day and still social distance, protected from the weather. Healthy solutions like this can be incorporated into our post pandemic design discussions.

Work together with your architect and design to improve the health of everyone in your family.