*
LEED - Leadership in Energy and Environmental Design. LEED is a green building rating system by which buildings are designed, constructed and rated for energy efficiency and environmental sensitivity.

New Home - "KNIGHT ON A CHESSBOARD"
Design inspired by the highly mathematical and strategically precise game of Chess.
-- American Institute of Architects - New Jersey TOP TEN GREEN PROJECT MERIT AWARD winner --
C E R T I F I E D _ L E E D _ P L A T I N U M
HIGHEST LEED LEVEL - This House is Seventy Nine Percent (79%) more efficient
than a typical NEW house.
"Green Rater" & Energy Experts MaGrann Associates ( www.magrann.com ) submitted results on the house Nov. 5 and
USGBC Certified it LEED Platinum on Nov. 6, 2009
--- 95 LEED points total ---
amazing achievement HFOT -- Key Ceremony-- come see on Nov. 10th at 11:00 am at the house.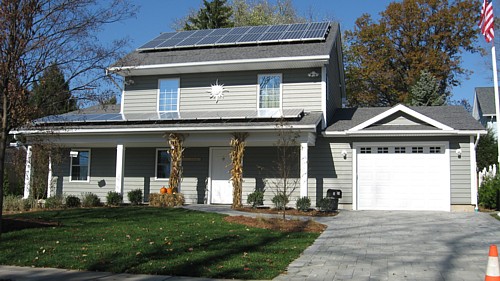 The First Platinum level LEED home in Bergen County, New Jersey and the first in a NJ suburb statewide. (source: USGBC website) This is the first home in New Jersey to achieve compliance with New Jersey's Clean Energy Program™ New Jersey Climate Choice Home standards. It is also among the first homes in the country to be built to such stringent standards involving energy efficiency, renewable energy, indoor air quality, water managed construction, framing quality, and HVAC quality installation .



WJM ARCHITECT is a member organization of the U.S. Green Building Council.
WJM's approach to achieving design goals, called Econo-Functional Aesthetic Balance or E-FABism,
creates a harmonious balance between design goals that seem to conflict.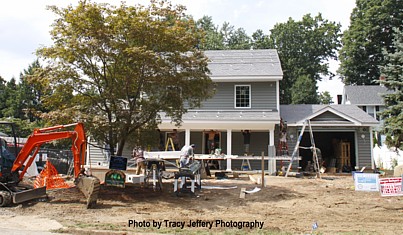 FRONT VIEW - UNDER CONSTRUCTION
N E W _ H O M E of Marine Cpl. Visnu Gonzalez,
William J. Martin, AIA, P.P., LEED AP-H -- WJM Architect
Rick Goyette, LEED AP, -- Project Manager, Homes for Our Troops
landscape design by Paul Keyes Associates, Tenafly, NJ ( www.paulkeyes.com )
built by Godsil Construction, Teaneck, NJ ( www.godsilconstruction.com ) &
Homes For Our Troops HFOT ( www.homesforourtroops.org ),
FREE custom homes for severly injured U. S. Service members
Latest in sustainable GREEN design building science and
cutting edge technology - CERTIFIED LEED Platinum
4 BEDROOMS, 2-1/2 BATHS, ELEVATOR, PHOTO-VOLTAIC PANELS, SOLAR GAIN MANAGEMENT, GEOTHERMAL HEATING AND AIR CONDITIONING, L-E-D LIGHTING, RAIN WATER CAPTURE AND RE-USE, INDIGINOUS PLANTINGS, SUPER-INSULATED FOUND (R53), WALLS (R24), AND ROOF CONSTRUCTION (R60)
28 CROSS STREET, HILLSDALE, NJ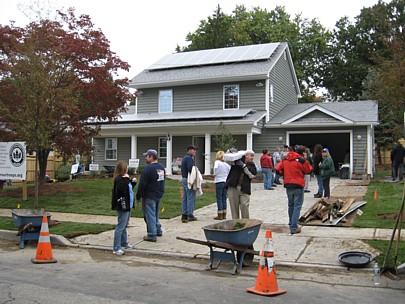 FRONT VIEW - Volunteers installing landscaping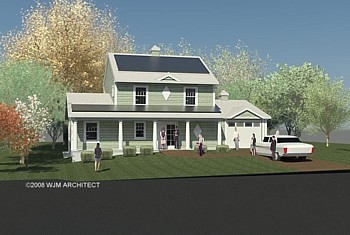 Beautiful Vernacular E-FAB design blends new home seamlessly into existing neighborhood and encourages others by demonstrating that sustainable design can mean a beautiful and comfortable home.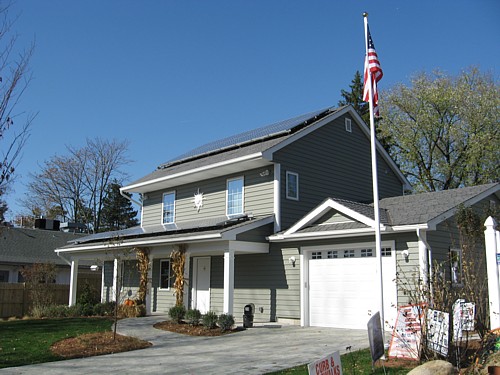 ACCESSIBLE ENTRY & ALL INTERIOR DETAILS DESIGNED
specifically for the comfort of CPL. GONZALEZ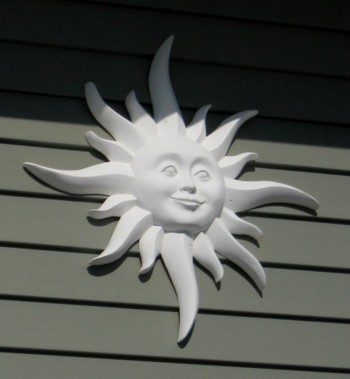 ARCHITECTURAL DETAILS POETICALLY SYMBOLIC of RENEWABLE GREEN ENERGY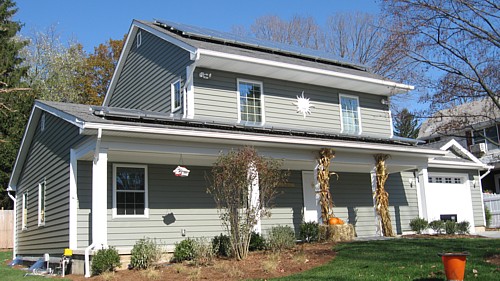 FRONT VIEW - Rainwater capture tanks buried in front yard. Porch and roof overhangs designed to manage and minimize solar heat gain by shielding south facing wall surfaces in summer months and allowing solar heat gain in winter months. Overhangs also allow year-round sun exposure of solar panels to generate maximum electrical power available to be used as needed.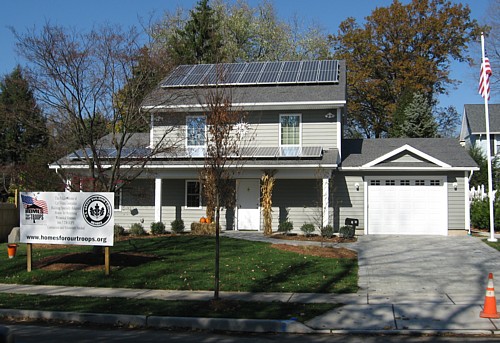 STREET VIEW - Indiginous plantings, beautiful and drought resistant. Soil conservation, site sediment runoff controls used during construction. Topsoil loss was minimized to protect environment. Site vegetation, before construction, was harvested and recycled. All discarded excess construction materials were recycled.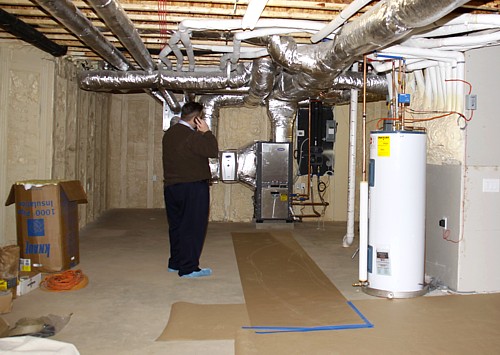 BASEMENT VIEW - Geothermal heat pump unit with forced air heating and cooling coils, fresh air exchanger, MERV 13 air filtration, hot water storage tank, insulated plumbing, radon control vent, all situated in basement with insulated distribution systems to above living space. Basement floor and walls are insulated from the surrounding earth to minimize heat loss into the ground under the house.

KITCHEN VIEW - Kitchen counters, cabinets, hardware and appliances are designed for comfortable use by Cpl. Gonzalez. Appliances are Energy Star rated, energy and water efficient and are located to facilitate use by Cpl. Gonzalez. Water efficient plumbing fixtures, faucets, and dual flush water conserving toilets, are incorporated into the design. Toilets conserve water by using significantly less water for the liquid waste flush. More water is used when solid waste is flushed.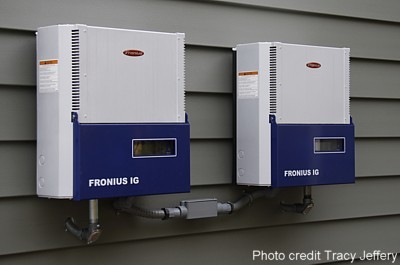 Photovoltaic-electric inverters - Roof mounted solar panels are connected through these inverters creating usable solar power for the house.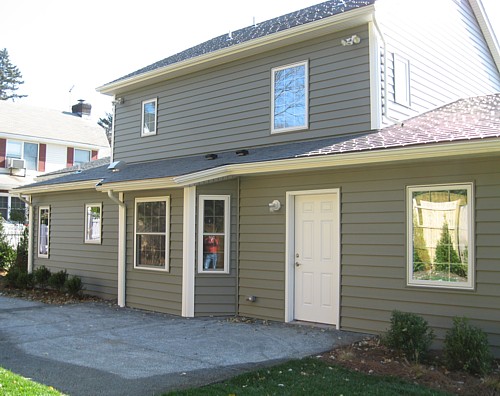 REAR VIEW - Porous concrete patio outside of breakfast nook. Geothermal heating and cooling wells drilled in the rear yard with well heads buried out of sight. Overhangs shorter at rear north side to allow in more daylight. Triple glazed argon filled energy efficient windows. Roof shingles made from recycled materials allow for sediment free rainwater capture and re-use for site planting irrigation system.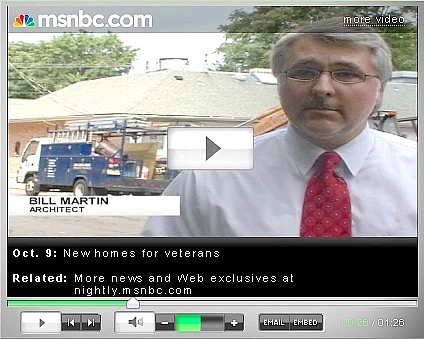 -- S O R R Y -- MSNBC discontinued the video from their website --

October 9, 2009
William J. Martin WJM Architect appears on NBC Nightly News with Brian Williams story
on new green design home for injured Iraq War Vet Cpl. Visnu Gonzalez.
*


Homes For Our Troops Build Brigade Video - June 25, 2009
Video shows how this award winning design was assembled
from structural insulated panels (SIPS) and more ...

*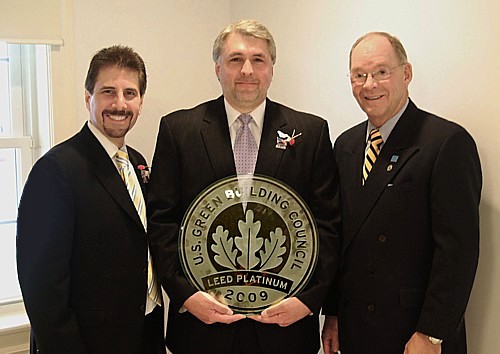 James Tortorelli ( Coldwell Banker ) -- William J. Martin, AIA ( WJM Architect ) -- Mark MaGrann ( MaGrann Assoc. Energy Experts ) WJM holding LEED Platinum etched glass award plaque
*

N E W _ H O M E of Marine Cpl. Visnu Gonzalez,

William J. Martin, AIA, P.P., LEED AP-H -- WJM Architect
Rick Goyette, LEED AP, -- Project Manager, Homes for Our Troops
landscape design by Paul Keyes Associates, Tenafly, NJ ( www.paulkeyes.com )
built by Godsil Construction, Teaneck, NJ ( godsilconstruction.com ) &
Homes For Our Troops HFOT ( homesforourtroops.org ),
FREE custom homes for severly injured U. S. Service members
Latest in sustainable GREEN design building science and
cutting edge technology - CERTIFIED LEED Platinum
4 BEDROOMS, 2-1/2 BATHS, ELEVATOR, PHOTO-VOLTAIC PANELS, SOLAR GAIN MANAGEMENT, GEOTHERMAL HEATING AND AIR CONDITIONING, L-E-D LIGHTING, RAIN WATER CAPTURE AND RE-USE, INDIGINOUS PLANTINGS, SUPER-INSULATED FOUNDATION (R53), WALLS (R24), AND ROOF CONSTRUCTION (R60)
28 CROSS STREET, HILLSDALE, NJ

*
***************
*