Architectural Fee...
Our Architectural fee is based on careful consideration of the specific size and complexity of your project, NOT on some arbitrary percentage of your construction cost or square footage based fee system.

Our fees are competitive and our services are a great value since our methods reduce contractor "extra" charges.

With our custom modified software, broad knowledge of building design and the economics of construction AND years of experience, WJM Architect lists out the exact project requirements in a unique way that protects the client from unjustified extra charges during construction.

This maximizes the ability of the client to negotiate with many contractors prior to deciding on which one to hire. These unique WJM methods can save the client thousands of dollars.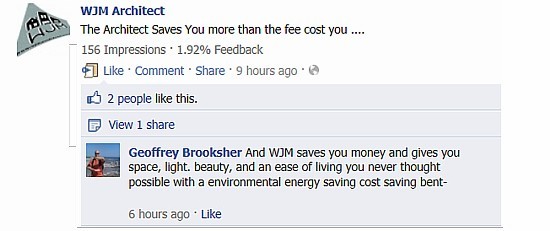 Our methods work.
You pay only for the services you need to accomplish your goals, and we work within your set project requirements.
The total architectural fee does not increase unless your project requirements change substantially during the course of the project.
Feel free to call us if you have questions about our fees.